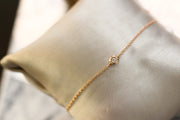 14k gold bracelet with a single bezel set 0.05ct diamond.
**All of our designs are handmade. Each piece is unique and you can expect slight variations in the shade, hue, carat weight, and tint of the color of the stones from what you see in these images. 
**Please contact us directly at bespoke@edwardavedis.com to discuss any options that are not listed above.